High Victorian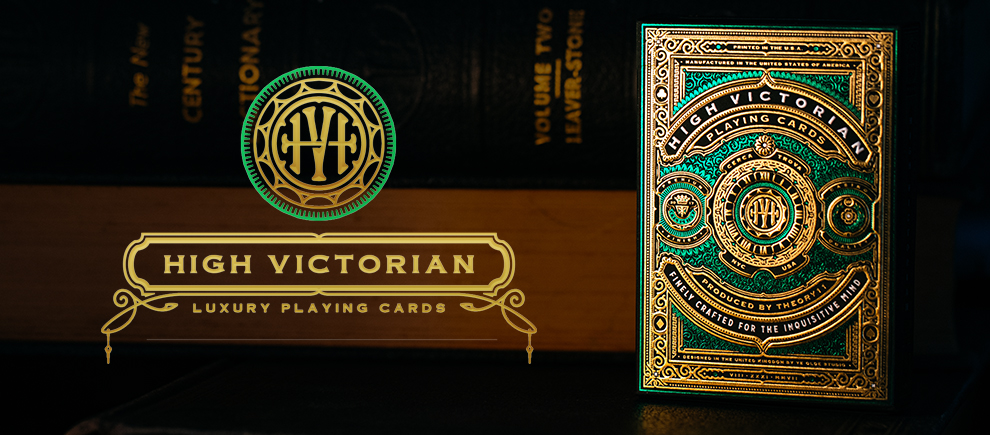 Finely crafted, premium playing cards for the inquisitive mind. 

These are Premium playing cards, designed in London by Joe White. Made in America. 

The World's Most Sophisticated Playing Cards 
SHIELDED IN GOLD AND GREEN FOIL 
High Victorian Playing Cards was inspired by the intricate, breathtaking style of the Victorian era. Every element was designed from scratch with painstaking, relentless attention to detail. 

A Closer Look 
ILLUSTRATED IN THE UNITED KINGDOM 
Every single playing card within the High Victorian Playing Cards was designed from scratch. Even the Aces, Jokers, and court cards exude the grand excess of ornamentation quintessential to the Victorian era. In a word: breathtaking. And the beautifully ornate tuck case will grab your attention immediately. 

Three-Dimensional Depth 
INSIDE AND OUT 
You'll be enthralled by this deck's three-dimensional back design that seemingly adds more detail with each and every look. The back design is as detailed as it is UNIQUE. Over 18 months in the making - and it shows. 

The world's most intricate, elegant playing cards.
Tricks once sold cannot be Returned or Exchange.
In magic secret is a most important factor because of This, We do not accept the return of exchange request once you have received purchased Trick.
If you received Damaged or Malfunctioning Product, it will be replaced with some new working Product.
Books, DVDs and Online Video Tutorials are Non-replaceable, Non-returnable, Non-refundable.
ALSO, Products Broughts In Sale or on special discounted price is non-refundable, non-returnable, and non-exchangeable.
for any other issue you can get in touch with NMS, simply write us on nikhil@nikhilsmagicshop.com or call us on +91 7066828285
Our Team will try our Best to resolve your issue, as soon as possible We want you happy each and every time you buy from us.